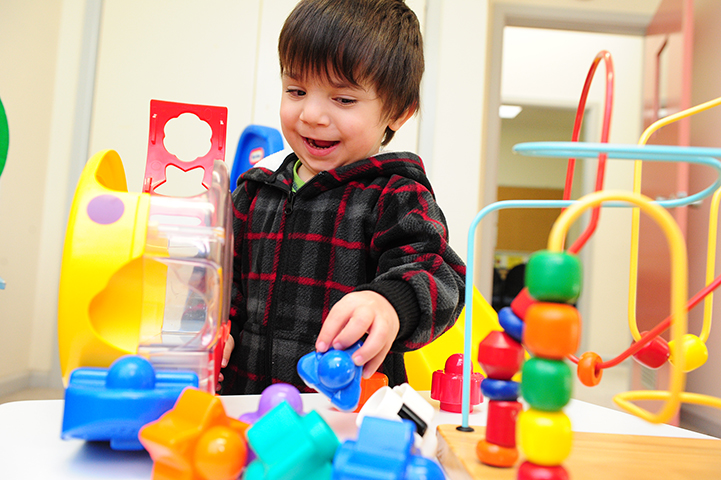 The right toy at the right time.
Find the toy your child needs or is interested in without having to purchase something new. EarlyEd's Cubby House Toy Library is open to the whole community. The Toy Library offers families a unique service as it is the only Toy Library in Northern Sydney which also offers access to early intervention staff.
Toy Library Hours
By appointment:
Monday – Friday: 9:00 am to 5.00 pm
Drop-in:
Monday: 12.00 pm to 2.30 pm
It is located at the rear of Forestville Senior Citizens' Centre
Cnr Starkey Street & Warringah Road, Forestville.
Parking is available adjacent to the library on the southern side of the Memorial Hall.
To Join
Make a referral online or for more information, you can reach us on 9923 2727. We can also offer support for agencies. Call us to discuss your needs with our staff, or to make an appointment.
To Donate
Please contact us if you wish to donate specialist toys or equipment in good condition.
Hygiene
Families are asked to clean toys before returning and to advise staff if there has been an infectious disease in the home.
What is the cost?
12 month membership:
General public: $80 (plus $30 bond which is fully refundable at the end of your membership when all toys/resources are returned complete).
EarlyEd families (for families currently receiving services from EarlyEd) receive a discounted membership: $60 ( with no bond payable)
Individual Therapy Appointments
Book an individual appointment with an EarlyEd Physiotherapist, Occupational Therapist or Speech Pathologist. Available to members at $175/hour by appointment only.
Resources available
EarlyEd's Toy Library has a wide range of toys, games, books, CDs, DVDs, and therapy/gross motor equipment. We also have a parents' reference library providing books on topics including speech, language and learning difficulties. Click here to visit our catalogue.
Loan period
Up to 4 weeks. Families may change toys more frequently.
Number of items per loan
5 toys, 5 books, 1 CD/DVD + 1 reference book for parents.
Online Toy Database
Browse our online catalogue now!
Volunteer
Volunteer at EarlyEd's Toy Library.