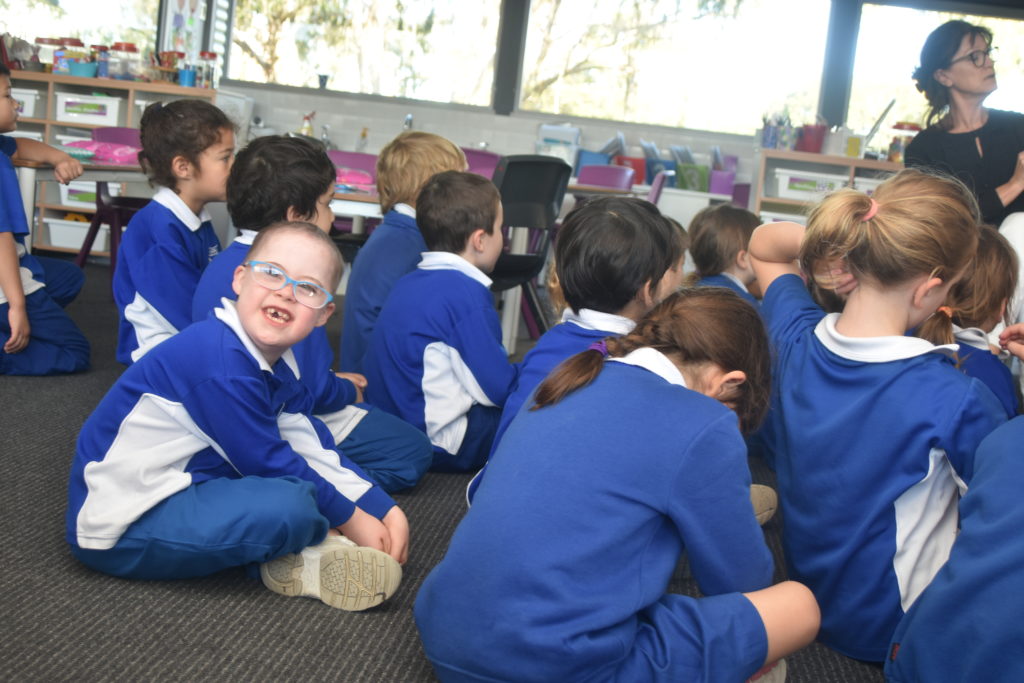 Specialist Allied Health Services
Early Education (EarlyEd) Inc. has been approved for appointment to the Department's Specialist Allied Health Services – Prequalification Scheme DoE1695694444. Please contact us for more information.
How can EarlyEd support your school?
EarlyEd can effectively assist your school to support children with disabilities and additional needs to reach their full potential. We offer consultancy, individual supports for children and professional development services that will complement your school's learning goals for your child and the schools strategic plan. Our training team can coordinate tailored professional development, work collaboratively with your teachers to build their capacity and also support your leadership team to review and develop your school's inclusive practices. In addition, our specialists can provide intervention supports for both specific children and groups of children.
Supporting Children with disabilities and additional needs in your school
EarlyEd has been offering teacher support for over 35 years across Northern, Western and Inner Western Sydney Areas. We recognise that it is difficult for children at school to receive their intervention supports and that school have demands on their time and learning requirements. For this reason we use a collaborative approach to support school children by working together with each family, child, school and community and supporting shared goals. Our staff can be flexible and aim to be responsive as every school is different and every child has different needs.
Support in schools for particular students can happen in several ways.
Schools can invite members of our team to work with groups of children through their own funding opportunities.
Families can approach us to support their child at school. Before we agree to undertake these services we help families find out how their school wants this to happen and what the school goals are for their child.
Schools can encourage families to use their child's funding opportunities to support their child at school through consultation, joint planning, coaching, training and capacity building e.g. if a child is using a communication system the school could ask for coaching for all staff who engage with your child.
Our team includes speech pathologists, physiotherapists, special educators, occupational therapists and behavior specialists who have experience working collaboratively with families, children, education and community agencies. Areas where we can support your students include speech and language, attention and behavior of concern, playground skills, social skills and sensory processing.
Targeted student groups
EarlyEd can coordinate specialised target groups to further support children with disabilities and additional needs at your school. Groups can run in term time or during the school holidays and are individualised for each child's needs. Groups include: Friendship Skills Lego® group, fine motor and hand skills group, language and literacy through music group and school skills group.
Parent workshops
Having a child with disabilities or additional needs can be extremely stressful and challenging for families. We believe at EarlyEd that supporting parent's to develop the skills they need to support their child is the most effective way to improve outcomes for children with disabilities and additional needs. The team are able to tailor and coordinate workshops for your parents to attend. Topics could include mealtime management, daily routines, positive behavior support, importance of play, NDIS meeting preparation and transition to high school.
Leadership and Management Consultation
EarlyEd staff have extensive consultancy experience and many years of experience in education and disability. They have strong educational backgrounds and are passionate about inclusion for all. We can work with your leadership and management team to evaluate and improve your inclusive practices and ensure that all students are successfully included. Our consultancy services will complement your strategic plan and ensure that all barriers to learning are identified and an implementation plan is put in place to overcome them.
Professional development for your staff
Professional learning is a great way to build your team's knowledge, skills and confidence around inclusion. This professional development could be:
1:1 teacher coaching, mentoring and team teaching
Staff meetings and development days
Conferences for groups of schools
What type of staff meetings and development days are available?
EarlyEd staff run practical, interactive workshops that are based on evidence and best practice. All our professional development and training is tailor-made by our experienced staff who will collaborate with your school to meet your team's needs. We call this our 'More than just a Workshop' approach. How often do you go to training and then never quite get to make the learning work for you in the classroom? Your staff will receive detailed hand-outs and resources that they can put straight into practice in their classrooms to make a difference to child outcomes.
EarlyEd staff can support you in the following areas: behavior management, social skills, sensory processing, ADHD, Autism, speech and language, fine and gross motor, literacy and mathematics.
Resources for your school
EarlyEd can create and supply resources to suit your schools classroom and playground needs.
Want to learn more about how EarlyEd can support your school?
Contact EarlyEd now to discuss your school's professional development needs.
School Consultancy and EarlyEd