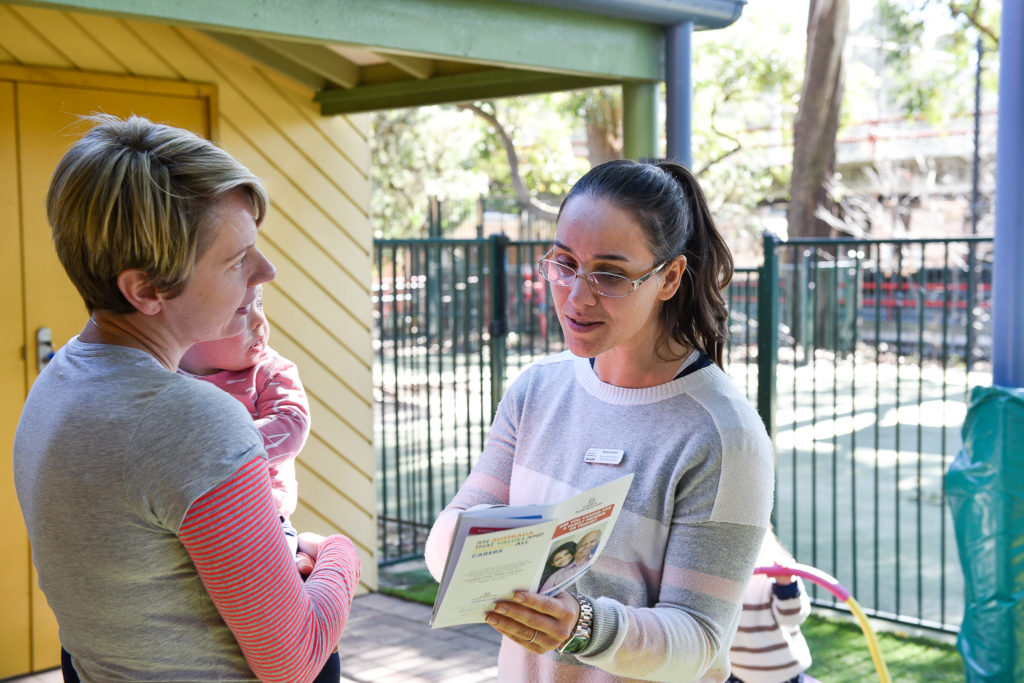 What is a Key Worker?
EarlyEd uses a family-centred approach. We understand how important it is to work in partnership with families. Working in partnerships gives families choice and control about how to support their child. To support this partnership, EarlyEd families can choose to purchase Key Worker services.
Your Key Worker:
is the person you will see and talk to the most at EarlyEd.
is the main worker involved with your family.
organises the service you receive from EarlyEd.
coordinates the team who supports your child.
This model is the recommended best-practice approach by the NDIS for children with developmental delays or disability.
Who are our Key Workers?
A Key Worker is an early childhood intervention professional. They can be from one of the following disciplines: Occupational Therapist, Speech Pathologist, Physiotherapist, Special Educator, Family Support Worker or Behaviour Specialist. A Key Worker is selected who will best support your overall needs.
Why would I choose to have a Key Worker?
When your child has a delay or disability this can involve many parts of their development. A Key Worker can support you in all areas of your child's development so that you can prioritise what is most important for your child.
Team Around the Child
A Key Worker is part of a team of experienced therapy and teaching professionals. EarlyEd's team works in a transdisciplinary model. Transdisciplinary practice is when a team of professionals from different disciplines (e.g. Speech Pathologists and Occupational Therapists) work closely together, and share information, ideas, techniques and strategies to offer individualised services to children and their families. EarlyEd's staff are a transdisciplinary 'team around your child'. They support your Key Worker by:
Giving specialist advice and support relating to your child's and family's needs
Providing your Key Worker with ideas, strategies and techniques that will meet your child's individual needs that can be implemented into your everyday family routine
This means you have access to a wide range of professionals to support your family's needs. Your Key Worker will also work with people who are already involved in supporting your child, including childcare, preschool, school, community activities, private therapists and medical staff.
By linking all of these services together, your Key Worker supports you in monitoring all of your child's needs and development. This ensures that the goals you have for your child focus on areas that are a priority for you. Your Key Worker respects your knowledge, skills and beliefs as well as recognising that you know your child best and are at the centre of all your child's interventions.
We are the service that can provide for all your family's needs in a place that is best suited to you.
How Will my Key Worker Help Me?
The role of the Key Worker can reduce some family stresses by focusing on five key areas that are important for families. These include:
Information and advice to navigate services and access resources
Opportunities to identify and help your needs in parenting
Advocacy for your child and family
Co-ordinating your child's services
Emotional support
Your Key Worker will work very closely with you and any other significant people in your child's life to provide you with:
Support in meeting with an NDIS planner
Help to find options
Guidance to make informed decisions about your child's development
Flexible, responsive services that change over time to meet the changing needs of your child and family
Assistance in developing goals with you for your child which focus on your priorities
Support to embed goals for learning in your everyday activities and routines
Support to access local community services and activities, e.g. childcare, school, shopping centre, local park, sports groups
Coaching and mentoring to implement strategies and techniques for your child's development into daily routines
Access to training that supports the needs of your family
Answers to any questions or concerns you may raise
Ways to communicate with other services and professionals
Support to co-ordinate all of services who currently support your child and family
Home & Community Visits
At EarlyEd we provide a range of Ready to Learn services for children aged 0 to 8 years of age who have been diagnosed with a disability or who are delayed in their development.
Do you feel concerned about your child when you are:
at the park
in swimming lessons
at dancing
at preschool or child care
shopping
spending time with your family and community
at school
Would you like your child to be more included in these social or sporting activities?
EarlyEd can assist you and your family in a variety of locations that will best suit the needs of your child and family.
Getting the Information You need.
Children learn the most from those who are closest to them. That is why Early Ed offers our Ready to Learn program at home and in the community.
Home is usually the place where your child spends most of the time. Even if your child is in childcare for many hours it is the periods of time they spend with you doing everyday activities such as getting ready for bed that can provide wonderful learning experiences. Time with carers such as grandparents is also potentially a great learning experience which EarlyEd will help to encourage and expand. It is important that all families can easily access early intervention services with EarlyEd. Your first meeting with the team is dependent on your needs, priorities and circumstances.
To assist CALD communities (Culturally and Linguistically Diverse), we have a variety of staff who can speak several different languages. We also access interpreters and use translated materials and resources as required.
Helpful links
ECIA – Family Booklet – how to choose quality early intervention and supports for your child.