Communication is everyone's right, children too.
Isolation. Something we are all familiar with in times of lockdown. Lockdown means a loss of social interaction with family and friends. Interestingly it has meant we are all learning to connect and access social and emotional supports in innovative ways.
"Communication is everybody's right" is the theme for Speech Pathology Week. This year this "right" has especially taken on new meaning.
COVID-19 restrictions have perhaps shown us what isolation might be like when a child or adult has difficulty communicating verbally. It has also shown us that we can access support to communication through different or innovative ways. Even the way intervention is now delivered online, through telepractice, has opened the doors to opportunities and the variety of ways we can communicate with children and families so they can access services.
We can support every child's right to communication even in the early months of a child's life.
Speech Pathologists can support every child to communicate whether it be through speech or alternative augmentative communication such as sign language and/or high tech devices. Many people, children in particular that are living with a communication disability are restricted in seeking, receiving and providing information because of their difficulty communicating.
For a child diagnosed with a disability it is important to incorporate support for the learning of communication into your intervention plan. EarlyEd offers this by making sure services are available at the developmental stage your child needs them, and by making sure all members of your early intervention team are working on the same goals.
During these difficult times, we as speech pathologists, cannot support our families in the same way. But we do know that communication skills are best developed in every day conversations and situations. As parents are the key provider of these opportunities we can take advantage of them more than ever. Now, with home learning for older children, the phrase "parents are the child's best teacher", has taken on a greater meaning!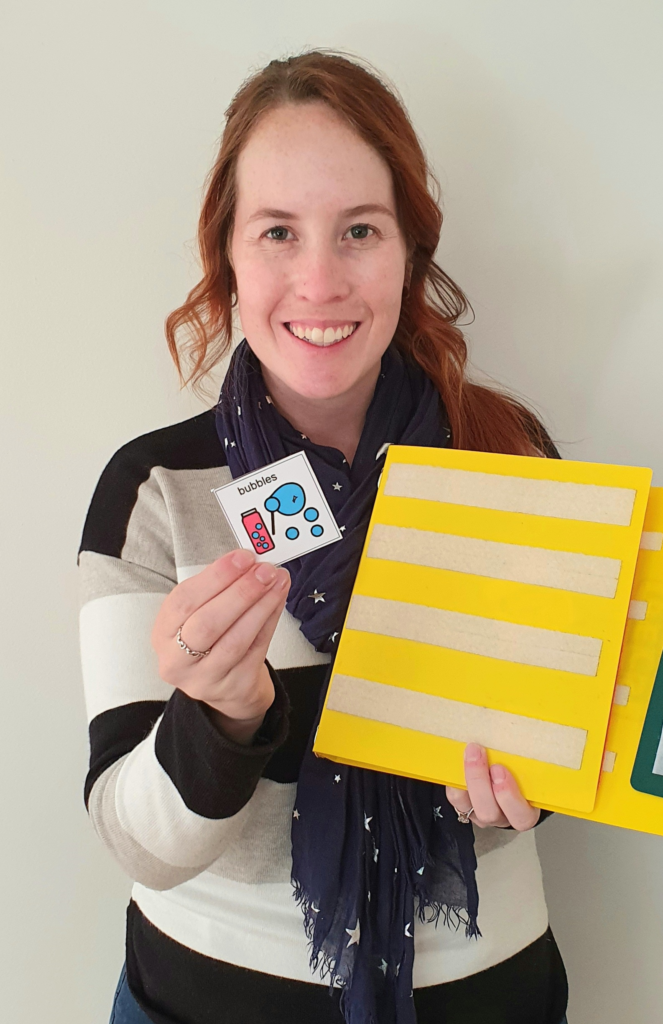 Perhaps it is also every parent's right to know how to support their child to communicate.
To ensure their children have adequate resources to communicate effectively, parents need to be supported to:
know about the variety of options and evidence based practices for augmentative communication
know what approach is right for their child
be confident to use the practices to support communications and
have access to the appropriate training to be able to support their children's effective communication
Once this has been achieved, the communicative outcomes we need can be expected.
How can we expect a parent, who is not coached on how to make adaptions to the way they communicate, to know how to do it?
How can we expect them to use Key Word Sign language to support their child, with regular ear infections or delays in communications, to the best of their ability without training?
If we don't provide preschool, childcare and school teachers with the training and coaching they need, we are denying these children their right to communicate in these respective environments.
By providing families and staff members with the coaching they need not only can the child have the best opportunities to communicate, they will be successful and this will mean they learn more quickly.
According to The conceptual framework proposed by the World Health Organization (WHO), the International Classification of Functioning, Disability, and Health, (ICF), by denying a child their communicative right we are denying them participation and access into their communities.
It is our role as speech pathologists to educate the greater community on the necessary supports that are required for communication to be accessible.

Families need the necessary support to allow this to happen and know they are supporting their child's right to communicate.
Think about including training and coaching for all those who support your child in your NDIS packages. These can include Hanen® programs, Key Word Sign courses and individual support sessions to make the most of communication and learning opportunities at home, preschool, childcare and school (even if doing home schooling).
EarlyEd's runs these all year for children with delays in language development and Autism.
Catherine Nader
Speech Pathologist, EarlyEd
Explore Speech Pathology week on social media using @SpeechPathAus and the hashtag #SPweek or #speechpathologyweek.
"Together with our early childhood intervention colleagues, EarlyEd Speech Pathologists are working to ensure that Communication is everyone's right #SPweek". www.speechpathologyaustralia.org.au/week"