A Great Story
Getting together for a story time, online isn't just about a fun time for children but about supporting families to play together. After story time we can talk about the story, retell it and think of ways we can use the stories in other ways. It can provide ideas and direction for play for days. Just what families need when we have COVID-19 restrictions in place.
Our story times are designed for all preschool children of all abilities. We have structured the sessions to support parents to help their children understand what is happening and to join in. We have created ideas about how to retell the story or extend play that parents can copy with whatever is around at home. If children are finding it hard to join in, parents can talk to us beforehand or contact us afterwards. If parents aren't sure how to use the technology, we can also help with that.
About story time:
We carefully select books that can engage pre-schoolers and are inclusive of all ages and learning needs. We use supports to make it easier for children to take part such as visual schedules and Key Word Sign. We do our best to make it interactive. Before and during the session we tell the parents how they can support their child. Some parents have screens on so we can see how they are going but the ability to turn your screen off when you want to, is a great way to feel comfortable joining in.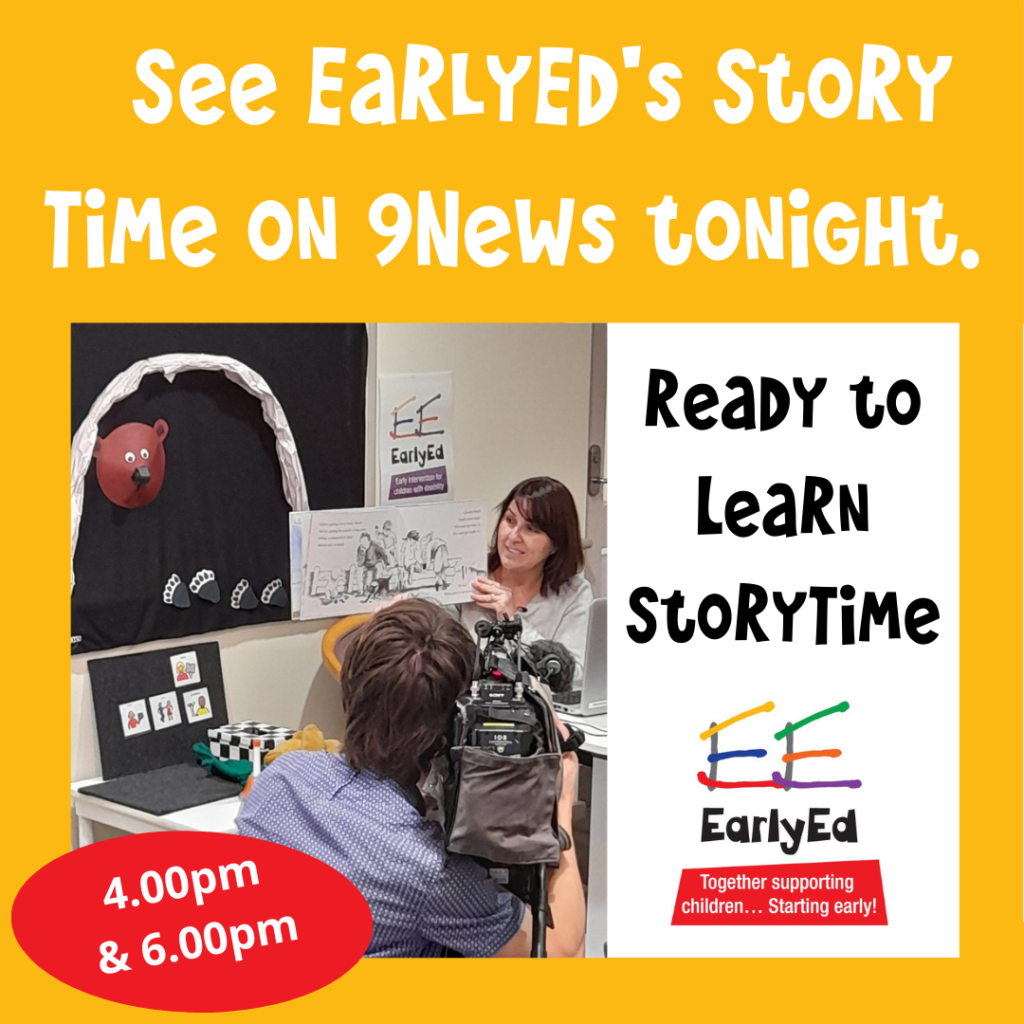 Why story time?
Learning how to listen and share in a story gives a child the opportunity to learn many skills that will help them be ready to make the most of childcare or preschool and school. Of course, they learn so much from the stories as well!
How did story time start?
When lockdown started in March 2020, we created an online storytime. We knew families were concerned their children were missing out on learning. At EarlyEd we wanted to show them that parents and families can provide amazing learning opportunities. Every Thursday, during lockdown, EarlyEd held an online interactive, supported story time for children and families for our funded children. But news spread, so we thought, "Why not let everyone come"!
As part of our Department of Education, NSW Start Strong Pathways program EarlyEd provides a service to children to help them take part in early education experiences or find a preschool or childcare. The funding supports children in Western and Northern Sydney. They can receive advice from our educators or have individual sessions. These sessions are individually designed for pre-schoolers who need support to be ready to learn.
If you live in Western and Northern Sydney and need these supports, contact us at services@earlyed.com.au or call (02) 9923 2727. 
Our other partnerships to support low cost/no cost play
Helping children be "ready to learn" by supporting families is the focus of all EarlyEd programs including our NDIS individual services and parent programs.
Partnerships and small grants can also help us provide free services, and support our communities to include all children, and support them to be "ready to learn". When funded, we have partnered with councils, Play for All Australia and the United Way Dolly Parton Imagination Library. Through a grant from Parramatta Council, we developed a new program to promote the "gift of a book" through the Dolly Parton Imagination Library and supported children to make the most of the books that come in the mail.
Our Learn to Play_Play to Learn project developed through our long partnership with Play for All Australia as a COVID-19 response to support families. Since then, we now have added a series of Active Play_Active Learning resources sponsored by local council. Learn through Play – EarlyEd.
We are always looking for more philanthropic sponsors and partners to support this work.
EarlyEd's Ready to Learn program is funded through Start Strong Pathways, Department of Education NSW, for the Northern and Western Sydney regions. Learn through Play – EarlyEd.
For more information, contact EarlyEd at earlyed@earlyed.com.au or call (02) 9923 2727 .
Written by:
Kerry Dominish, Chief Executive Officer
Kylie Holding, Team Leader Project Coordinator