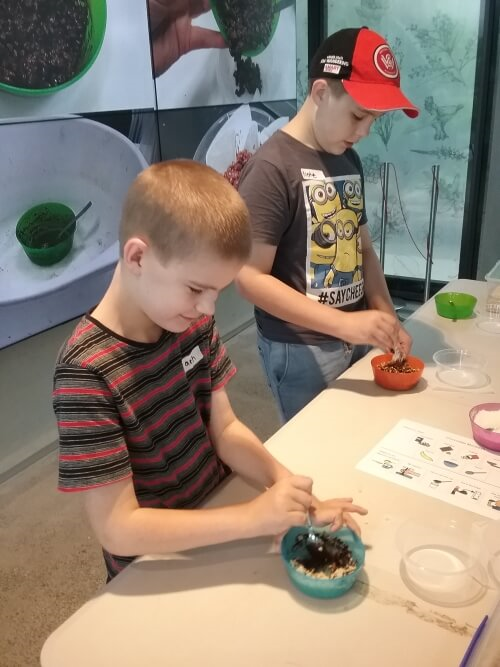 EarlyEd and The Royal Botanic Garden Sydney partner up on inclusive school holiday programs for children with disability
The Royal Botanic Garden Sydney is a fun day out for families to explore nature, take in the beautiful scenery, and enjoy time together. Making memories by doing things together is something all families want, however this can be more difficult for some families than others.
My role as an Occupational Therapist at EarlyEd is to support the children and families that I work with to access and participate in activities that are meaningful to them. I often have families tell me they find it too difficult to go out as a family to the local coffee shop or go to the park. This can lead to families to feel isolated and miss out on experiencing moments together as a family.
Networking led to partnership
At the 2016 Children's Week celebrations in the Royal Botanic Garden, EarlyEd CEO Kerry Dominish met the Garden educational team and found out about their regular programs for schools and school holiday programs. The Garden team shared their interest in adding school holiday activities for children with disabilities into their programs, and a commitment was made by both organisations to find ways to support this to happen. This led to a partnership with the aim of increasing participation in mainstream community programs for children with disabilities, with families having access to support programs.
Common interest in increasing inclusive school holidays fun
We started out by meeting to better understand each other's functions, practices and philosophies. We of course were very happy to meet as we toured through not only the glorious garden areas but the teaching spaces in the historical buildings of the gardens. This created an opportunity not only to experience the activities offered but explore access and inclusion challenges and opportunities of the environment and content. One of Sydney's classic sudden thunderstorms as we were about to visit the training centre at the new Calyx helped us consider all the adaptions we could make to ensure families had a successful visit! Some key considerations to the overall concept led to inclusion of the whole family at the activity, meeting inside the building before the event to help children adjust to the environment, transport and access scoping.
The inclusive programs
We have successfully run inclusive programs in the January and April 2017 school holidays, with growing interest from families to attend. We will be running another program in the July school holidays. The programs are run with a staff member from the Royal Botanic Garden and myself from EarlyEd. The programs are regular holiday programs that have been modified using inclusive practices which the whole family are able to attend. The programs allow flexibility and responsiveness  to meet the needs of each individual child. Modifications were made to the environment to allow all activities to be accessed by all children. Visual supports were implemented to support communication needs through a social story, accessibility map, routine visuals and communication boards. Teaching styles were adapted to cater for individual needs. Sensory tools were also used to support regulation and staff supported to understand the need for children to fidget.
The parents who attended the activities said some of the challenges that stopped them from doing activities in the community include not knowing if a location is accessible for a wheelchair, being afraid that their child will run away and potential judgements from other people when their child is not behaving the way that society classes as 'normal'. We aimed to develop programs that provided a safe and respectful place for all children to explore and learn about the Garden and participate in fun experiences to the best of their ability. Many families said it has made them open to trying new experiences in the community as it wasn't as hard as they thought, and want to come back again. One family said this was the first time they had visited the Royal Botanic Garden and they want to come again.
Further learning
Working with The Royal Botanic Garden staff on the holiday programs was such a positive experience, that they requested team training for all of the teachers to further develop staff knowledge about inclusive practises and add to their work practices. The feedback from a lot of the staff were that they didn't feel confident that they knew what to do with children with additional needs, and didn't know where to start to develop this knowledge. The training aimed to demystify working with children with additional needs through practical and hands-on training to build their skills and work together to modify and adapt their current programs to be inclusive.
The partnership with The Royal Botanic Garden has been invaluable to support families to access and participate in new experiences in the community, and hopefully develop their confidence to continue to explore their communities. The staff at The Royal Botanic Garden are continuing to develop the inclusion of all children across all their programs, and EarlyEd is grateful to continue developing this partnership.
If you are interested in attending the July school holiday program at The Royal Botanic Garden Sydney, learn more here.