As told to us by Carmel, Bernie's mother:
Bernadette was born into a family of 12 siblings – Later 13 as Carmel Cecelia was born in 1982.
At birth was diagnosed with Down Syndrome. We lived in Country town Dubbo – 6 hours drive from Sydney. Absolutely no advice or help available in those days. Just a small brochure describing Down Syndrome. No family intervention or Ancillary services.
When Bernie was born she had 3 brothers all pre-school age: Joe 1974, Justin 1976 and Ben 1977 as well 8 at school and Louise at Teacher's College.
Oh what a challenge to our busy family with no knowledge of how to help her develop. Possibly around April-May 1979 a Dubbo friend (now/lying in Sydney) sent a small cut out from Sydney Morning Herald speaking about Sandra Leonard who had set up an Early Intervention Clinic in Cremorne. We made contact and proceeded to endeavour to bring Bernie down once a month to the clinic for development therapy and methods of how we as a family could assist Bernie learn the skills that other children developed naturally.
Sandra was a tremendous guide to myself and in turn to Bernie and in turn to the family who I was able to encourage to assist Bernie with her skills.
It was certainly by no means an easy road: An extremely busy family: Peter (Bernie's dad) working very long hours as a pharmacist.
The monthly trips to Sydney did sometimes not eventuate because of family illness or priorities and as time away from home was limited we needed to mostly travel by plane. This also provided some difficulties: The cost: cancellations and late arrival due to weather conditions so we would sometimes miss our appointment.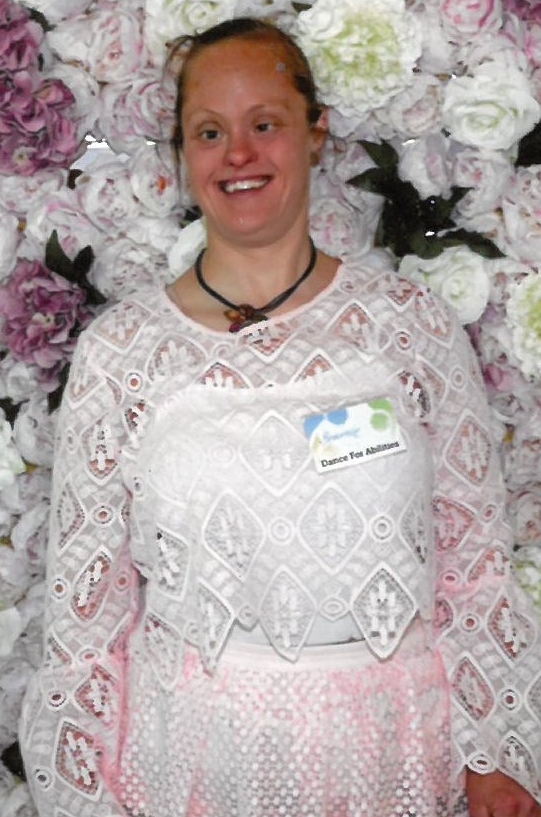 Sometimes on these trips I would bring one of the little boys as a sort of "Reward Schedule" to compensate for extra time and help Bernie needed to develop. After Cremorne visit we would catch a bus to Manly, have a couple of hours, then make journey to the airport and home.
Bernie's skills progressed then about September 1974 I noticed she started to progress for no apparent reason. The paediatrician advised us to come and see a neurologist (Professor Thorpe) at Sydney Children's hospital on about December 20th 1979. He gave us the devastating diagnosis. Bernie had hypsarrhythmia (a nasty form of epilepsy). She would either stay as she was – a very "Raggedy Anne" sloppy doll or die and with this news Bernie and I returned to the family to celebrate Christmas. Medication was given and we reverted to the original exercise schedule. Slowly some progress was made. Then in March 1980 she became very ill and hospitalised with meningitis. Seeing the lumbar puncture fluid I recall our doctor (in Dubbo) exclaiming "Bernie can't take a trick!".
Hospitalised and intravenous medication arrested the meningitis. But again more developmental damage had been done. When she improved we again re-commenced the trips to Cremorne.
The "silent" seizures were improving and again Bernie redeveloped some of her old skills.
When she was 5 a special school in Dubbo was constantly getting in touch advocating she attend. Sandra was not at all keen and discouraged it. However, we decided for her to go part time – an unwise decision at the time I think but I guess I thought I may get extra help, which I needed.
She integrated at the local Catholic School for 2 hours twice weekly. The teachers then had no training or experience with disable students. Visiting Dubbo was an Occupational Therapist Elaine Wilson and she wanted to help Bernie.
Now about 6: she became a great friend and super support to myself and Bernie.
Again at that time Sandra not too keen on OT. But I was desperate and willing to try "any port in a storm" especially as we were so far away from any guidance. Some Sydney Down Syndrome children attended an intense programme at Macquarie University, so their skills were greater.
When Bernie in year 7 we up and moved the family to Manly as the Principal at St Vincent's College at Potts Point really wanted Bernie to attend. Four older sisters had boarded there from Dubbo in year 11 and 12.
We travelled trained Bernie – Ferry from Manly, bus to Martin Place, train to Kings Cross, then a 15 minute walk to school. Reverse to come home which she learnt to complete on her own. There was an odd diversion en-route home but it worked out (to Sydenham on the train!! and a couple of other things).
Bernie was well accepted at St Vincent's.
She went to Cromer High School for years 11 and 12 in a specific unit.
Bernie has completed some TAFE courses and worked in the Dee Why Pharmacy for 20 years with her dad and brother.
A work change was needed and through the Down Syndrome Association Bernie applied for a job as a welcomer for 3 days a week at Novatel Central. She was successful has been there 1 year and 4 months and really loves her work under the umbrella of Job Support.
Bernie's Social Pleasures
She:
Is a member of the Up Club – social group of Down Syndrome Association and participates in many social activities and camps

Participates in Special Olympics Ten Pin Bowling is anticipating and preparing for upcoming state championships.

Is an avid Swans supporter: Last year was actually a guest of the umpire's association on the field during a game. Was really treated like "Royalty".

Participates in Jazz, Hip Hop Dancing classes on Tuesday and Saturday. About 6 years ago Bernie participate with her dance school in Disneyland. They were the first disabled group to have participated in the Disney land Parade.

Pilates each week

Does weekly speech and drama lessons

Has a weekly Personal Trainer

Assists Priest twice monthly on the altar during Sunday Mass
In February Bernie celebrated her 40th birthday with a grand celebration.
Hence the lady, who as a baby and small child had so many problems and diagnosis, now enjoys a fulfilled life and has excellent language skills.