Book Review: School Ready by Sonja Walker
School Ready: a great new book for parents
EarlyEd is always keen to find and resources for the many children we support to be school ready and very pleased to share this one written by well know educator Sonja Walker. Sonja's book 'School Ready' not only has just about everything you could ever need to know about school readiness but also reflects what it is like to engage with our local, Sydney school system. Sonja is the mother of a child with a disability, a parent educator and has 30 years' experience as a teacher. 'School Ready' is written from her personal experiences and the journey she has taken with her child and all the other children she has supported in preparation for starting school and beyond.
It is a really practical book supporting families on their personal journey. The focus of the book is on the 'uniqueness of your special child', highlighting your child's strengths, obstacles that might be along the way and how to navigate through them. You will find yourself unable to put the book down as it is full of practical advice, resources and templates which guide you in:
How to choose the right school
Having realistic expectations
10 top tips to help your child succeed at school
How to navigate relationships with parents and staff,
Toileting; meal times; making friends; navigating the playground
Separation anxiety and meltdown
One of the areas Sonja focuses on is when to start the school ready journey – 'The earlier the better' (p10). The opportunity to find the school that is right for your child is then greater. She also highlights the importance of the team around the child. Finding out how to communicate with those who can support your child and keep you informed, may well be the answer to a successful experience for all. Take a look at the story on page 79 called 'Now that's a knife', which shows how developing a relationship resulted in a positive outcome for Sonja's son.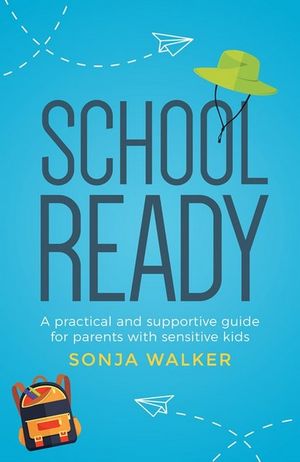 For you and your child to have a sense of belonging, making connections with other parents and staff may bridge those barriers. KidsMatter is an initiative of the Australian Government (p100). Their research states that when a child has a sense of belonging they are 'happier, more relaxed and have fewer behavioural problems'. Sonja reinforces the need for preparation leading up to starting school. The more experiences your child has (p 101), the better prepared they will be, through:
school orientations,
meeting other new families;
collaborating with the school
your child practicing packing his backpack and even learning how to use a toilet cubicle (this can be achieved at a shopping centre).
'School Ready' is taking you on a journey for you and your special and unique child. This journey will continue throughout their school years. Sonja refers to the 'elastic band kids'. Your child will be exploring their boundaries, friendships and new interests, they will continue to bounce back when 'the storm is rough'. No matter who is in your child's life, unconditional love binds your family together – helping you to move forward until the tide turns'.
If you are wondering how you can help your child be school ready then find this book here. As Sonja's suggests it is worth starting early to obtain help if you feel your child might find starting school a challenge. We suggest you seek support "in the year before" the year you want your child to start school. For information about all the ways EarlyEd can help your child be "school ready" go here.
Elise Bulie
Special Educator
School Ready by Sonja Walker is available at major online retailers.
EarlyEd offers both in term Transition to School groups and holiday intensive School Skills groups to assist children with the move to primary school.